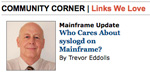 As this will probably be my last blog of 2010, I thought it would be traditional to review what's happened in the mainframe world over the past year.
2010 will probably be remembered as the year of the cloud because it was the year when cloud computing started to be taken seriously across the industry. Microsoft opened its 'mega data centre' in Dublin and promoted its Windows Azure environment for development, service hosting, and service management based on the cloud. Google worked with VMware to develop a new operating system for the cloud, and launched a version of the Google App Engine for enterprise users. Amazon promoted its Elastic Compute Cloud (Amazon EC2) service. And many people suggested that mainframes have offered cloud computing all along – we just called it something else!
IBM's acquisitions this year include: National Interest Security Company, Initiate Systems, Intelliden, Cast Iron Systems, Sterling Commerce, Coremetrics, BigFix, Storwize, Datacap, Unica, OpenPages, Netezza , PSS Systems, and Clarity Systems.
The big story of 2010, of course, was the launch of a new mainframe range in July. The zEnterprise 196 brings together the latest mainframe technology with POWER7 and
x
86 IBM blade systems, giving potential users z/OS, AIX, and Linux all on the one box. And all this is controlled from the mainframe console by the new Unified Resource Manager. This new mainframe can be thought of as a virtualization hub that manages other workloads in the data centre.
For people who like to stay current with the latest version numbers and dates of major products, CICS 2.1 has been available since the middle of 2009, DB2 10 was announced earlier this year, as was z/OS 1.12, and IMS 12 should be generally available early in the New Year.
The battle between IBM and NEON Enterprise Software (provider of the zPrime product, which allows users to run traditional workloads on specialty processors) has rumbled on in the courts for a year without any sign of an outcome. The European Union regulators have taken IBM to task for not allowing its operating system to run on other hardware, and for not being fair to so-called 'spare-part' vendors. The first complaint came from T3 and TurboHercules, saying that IBM ties its mainframe operating system to its mainframe hardware – and thereby destroys the emulation market.
For me and
i
Tech-Ed Ltd it was a good year. I was given the accolade of IBM Information Champion again this year. My blog at Mainframe Update (
mainframeupdate.blogspot.com
) was again a finalist in the
Computer Weekly
annual blog awards. I was interviewed by CIPS (the Canadian Information technology Professionals). You can download a podcast of the interview from the CIPS Connections site at
stephenibaraki.com/cips/v610/trevor_eddolls_2010.html
. I was invited by CA to be on their expert panel for a webinar called "From Here to Eternity: The Mainframe as a Mainstay of the Enterprise" discussing cloud computing. Other panellists were Jon Toigo, CEO, Toigo Partners International; Keith Winnard, IT technical services, JD Williams; and Dayton Semerjian, general manager, mainframe, CA Technologies; and control of the session was maintained by Michael Krieger.
i
Tech-Ed helped produce the
Arcati Mainframe Yearbook 2010
, which is still available for download from
www.arcati.com/newyearbook10
. The 2011 edition will be available in January. IBM Systems Magazine's Mainframe Extra eNewsletter was quite taken by one of my regular blogs and they included it in their "Links We Love" section. My articles on cloud computing and IMS was published in the October/November issue of
zJournal
. The links for the articles are
www.mainframezone.com/it-management/ims-and-cloud-computing
and
www.mainframezone.com/it-management/sidebar-cloud-computing-origins-and-evolution
. Exciting things are happening with the Virtual IMS user group that
i
Tech-Ed runs. After a short hiatus, a new sponsor for the user group has been found and webinars and newsletters will continue for members and guests in the New Year. Look out for more details.
Merry Christmas and a happy New Year.